News
Tomlinson Hall introduces a new generation of highly efficient pump technology
October 18th 2018
Industrial and chemical facilities operators can benefit from greater efficiency in their pump systems, thanks to new technology available through Tomlinson Hall.
We have added DEPA® DH® Next Generation Cast Stainless Steel Air Operated Double Diaphragm (AODD) Pumps to our portfolio, which are designed to improve efficiency by up to 57 per cent and increase flow rates by up to 10 per cent, when compared with the previous DL pump design.
Manufactured by CRANE ChemPharma & Energy, for which Tomlinson Hall is the sole UK distributor, the DEPA® DH® Next Generation Cast Stainless Steel AODD Pumps were launched into the international market in September 2018. They have applications in industries including paint manufacture, mechanical engineering, ceramics, mining, marine, construction and automotive.
The pumps boast a free-standing, bolted design with a reduced number of parts which allows for easier servicing and maintenance in place (MIP). The new DEPA® stainless steel range comes with ATEX Zone 1 certification as standard with the added benefit of the all stainless steel pumps also being available with ATEX Zone 0 certification.
DEPA® DH® Next Generation Cast Stainless Steel AODD Pumps use Free Flow Path technology which reduces unused volume with an optimised chamber for specific diaphragm design and dimensions. When applied to the new DEPA® DH® Next Generation Cast Stainless Steel AODD Pumps, this technology can increase the scope of applications, reduce the total cost of ownership through enhanced efficiency of up to 57 per cent when compared to the previous model and accommodate particle sizes up to 18mm.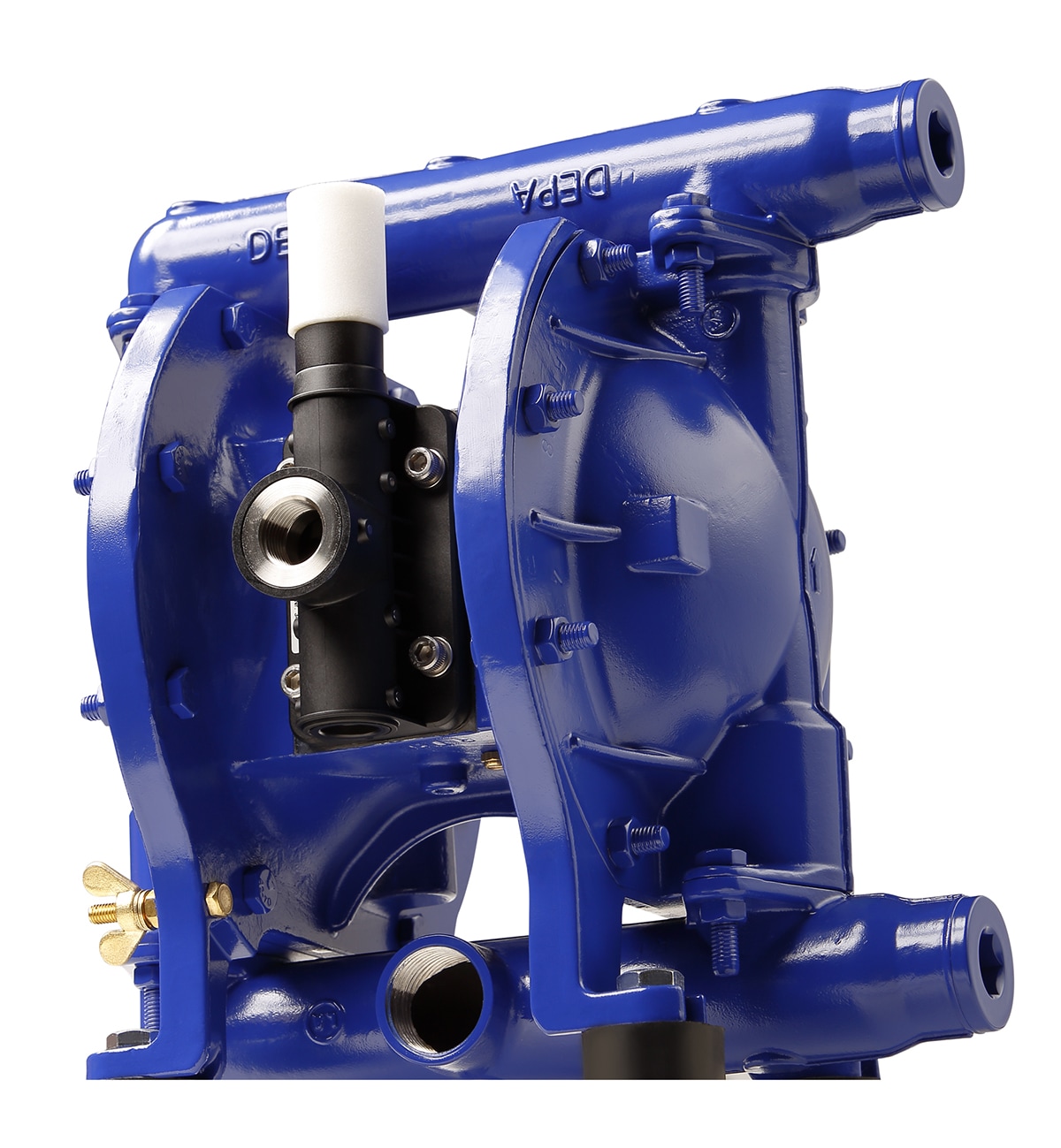 Reprinted with permission from Crane Co. All Rights Reserved.
In addition, the pumps' flexible, multiport manifold can be customised to plant specifications and provides up to 16 connection options to accommodate a wide range of operational requirements. This offers enhanced application opportunities with a pressure of up to 8.6 bar (125 psi).
DEPA® DH® Next Generation Cast Stainless Steel Pumps are available in the fluid connection sizes of ½" (DH15), 1" (DH25), 1 ½" (DH40), 2" (DH50), and 3" (DH80).
With interchangeable wearing parts, they are available with a comprehensive selection of options and accessories which include Stroke Counter for batch control, Diaphragm Leak Detection to prevent fugitive emissions, High Performance Silencer for reduced dBa levels and Pulsation Dampers to protect pipework and control equipment.
The new models are available through our innovative £99 for 99 scrappage scheme. Launched at the start of 2018 to celebrate its 99th year in business, the scrappage scheme – which lasts until December 31 2018 - allows end users to replace older pumps with more energy efficient solutions and support the Royal National Lifeboat Institution (RNLI) in the process.
Under the '£99 for 99' initiative, Tomlinson Hall is giving £99 – in addition to any negotiated price – to any company which replaces any old pump on their UK premises with a new DEPA® AODD or ELRO®  pump, which will be supplied by Tomlinson Hall. The firm will safely dispose of the old pump and the scrap value of each pump replaced will be donated to the Royal National Lifeboat Institution (RNLI). Pump users can either take their scrap pumps to Tomlinson Hall's premises for disposal or Tomlinson Hall's specialist engineering team will de-install the pumps on the customer's site.
Colin Simpson, Business Development Director of Tomlinson Hall, said: "CRANE ChemPharma & Energy has long been renowned for its commitment to innovation and the new generation of DEPA® DH® Next Generation Cast Stainless Steel AODD Pumps demonstrate its ability to apply this for the benefit of end users in multiple industries.
"These new pumps will provide a solution which has the potential to deliver major long term cost savings for users, as well as providing them with a reliable, easy-to-maintain pump system that will help them to reduce operational downtime."
David Lindsay, Nordic Region Sales Manager – Pumps at CRANE ChemPharma & Energy Flow Solutions, added: "The DEPA® DH® Next Generation Cast Stainless Steel AODD Pumps are an exciting addition to our range and we're delighted that they will be joining other CRANE products in Tomlinson Hall's portfolio. We're looking forward to seeing them make a real impact in industry in the coming months."
---
Distribution excellence
We distribute pumps for pump manufacturers worldwide...
Tomlinson Hall is the sole UK distributor for DEPA, ELRO and Richter pumps.