News
Tomlinson Hall supports education on Teesside with major donation
May 14th 2018
Tomlinson Hall is helping to support the scientists of the future by donating £2000 to Billingham South Community Primary School.
Tomlinson Hall was named Engineering Firm of the Year 2018 at the North East of England Process Industry Cluster (NEPIC) Annual Industry Awards on January 19 and received £2000 to donate to a local school of its choice to support STEM-related projects.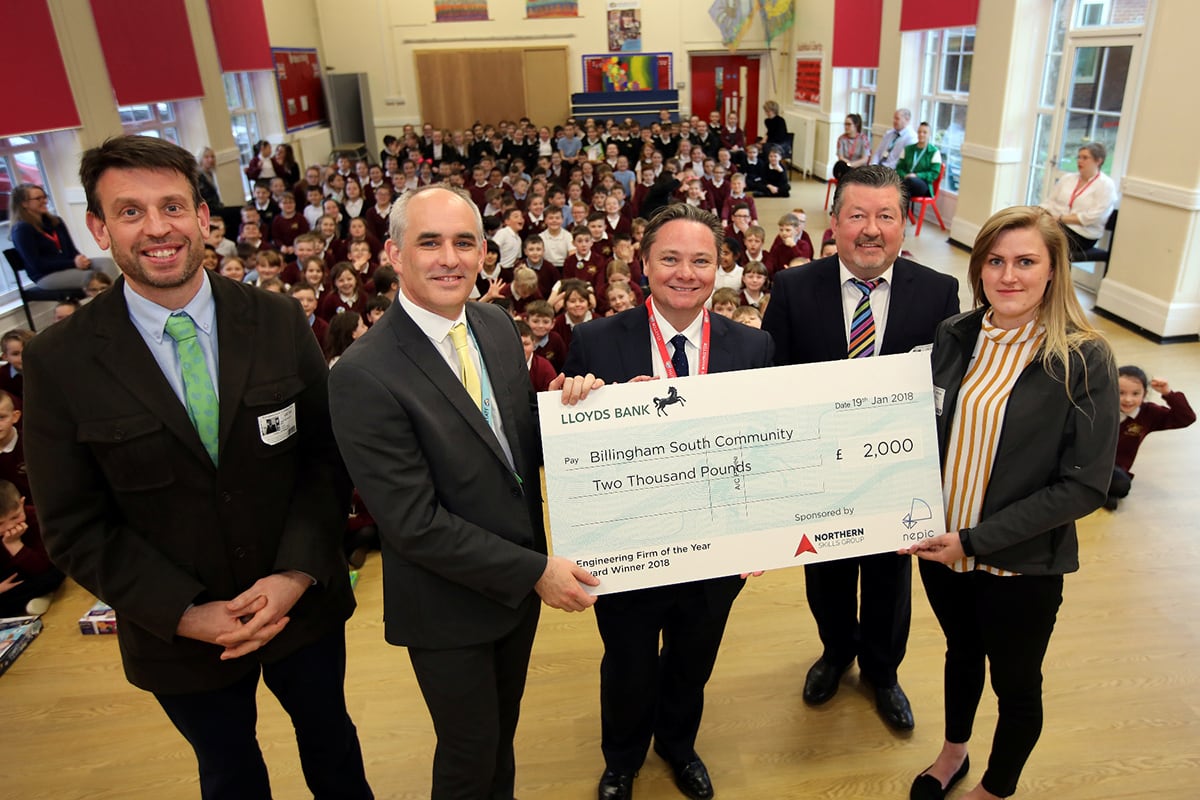 We donated the money to Billingham South Community Primary School and this has helped to fund the school's Science Week and provide valuable resources to enrich its pupils' educational experience in STEM subjects.  
NEPIC is an award-winning industry-led cluster organisation which works to grow the chemical-using industries, businesses and associated supply chain in the North East of England. Its Industry Awards Dinner was held at Hardwick Hall, County Durham and the award for Engineering Firm of the Year, sponsored by The Northern Skills Group, champions the best and brightest successes within the industry. 
Colin Simpson, Business Development Director of Tomlinson Hall, said: "We were delighted to be able to donate the prize money to Billingham South Primary School and support the growth of science and engineering in our local community.
"It's fantastic that through the NEPIC Annual Industry Awards, schools in the region can receive a valuable financial boost – one that can make a real difference to pupils.
"At Tomlinson Hall, we believe that business and the community should work together to support our young people and give them the best grounding possible in STEM subjects. We draw a lot of our engineering talent from Teesside and who knows, some of the pupils at Billingham South Primary School could be working for us as pump engineers in a few years' time!"
Edwin Squires, Head Teacher at Billingham South Community Primary School said: "At Billingham South we are committed to STEM subjects, so our pupils can see the potential of a future in STEM industries.  
"We are so grateful for the generous donation from Tomlinson Hall; it will enable us to continue to invest in STEM subjects and helped make our Science Week.  In addition to the cheque, we hope to continue our partnership with Tomlinson Hall and are already exploring possible collaborations for the near future."
Pictured, left to right: Andy Buckworth (Executive Director Stem Technical Training, Northern Skills Group), Edwin Squire (Headmaster, Billingham South Community Primary School), Ian Wright (Chief Executive, NEPIC), Colin Simpson (Business Development Director, Tomlinson Hall) and Sara Raffell (Internal Sales, Tomlinson Hall).
---
Distribution excellence
We distribute pumps for pump manufacturers worldwide...
Tomlinson Hall is the sole UK distributor for DEPA, ELRO and Richter pumps.